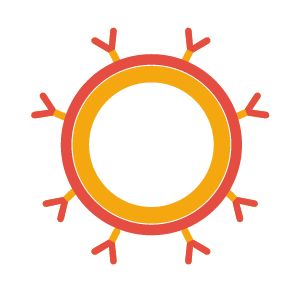 20 abstracts accepted (Tisagenlecleucel – 16 abstracts [6 Oral, 9 Posters, 1 Publication Only]; Pipeline CAR-T: 4 abstracts [1 Oral, 3 Posters])
Clinical Trial and Real-World Evidence – r/r DLBCL and pALL
---
Clinical Trial and Real-World Evidence – r/r Follicular Lymphoma
Margarida Rodrigues, Emmanuel Duran, Bernd Eschgfaeller, David Kuzan, and Karen Habucky
Background: Tisagenlecleucel (Kymriah) is an autologous CD19-directed CAR-T-cell therapy, approved in Aug-2017 for treating children and young adults with relapsed/refractory (r/r) acute lymphoblastic leukemia and in May-2018 for treating adults with r/r diffuse large B-cell lymphoma. Post-approval, a key goal has been to upscale and continuously improve manufacturing success and turnaround time in the commercial settings to meet the needs of a global patient population. Here we report accrued experience from our 4-year journey of optimizing the commercial tisagenlecleucel manufacturing process at the US site (Morris Plains, NJ), for faster and successful delivery to patients in the US. 
 
Methods: As reported previously, the tisagenlecleucel manufacturing process includes leukapheresis of the patient's peripheral blood mononuclear cells, enrichment and activation of T cells, transduction of the lentiviral vector containing the anti-CD19 CAR transgene, activation with anti-CD3/CD28 antibody–coated beads, expansion in cell culture, washing, and formulation of the viable cells into a cryoformulation medium. The final product is then cryopreserved, shipped back to the treatment center and infused to patients (Tyagarajan, 2020). Use of cryopreserved leukapheresis material as the starting point in commercial manufacturing is unique to tisagenlecleucel; this allows flexibility in terms of scheduling leukapheresis when a patient's health is optimal to provide T cells, and also helps offset logistical challenges (Tyagarajan, 2019). 
 
Results: As of Jun-2021, tisagenlecleucel has been manufactured for >5000 patients worldwide, enabled by Novartis's significantly increased global manufacturing footprint at six sites strategically located across six countries (US, France, Switzerland, Germany, Japan and Australia) and a global treatment network of >340 certified centers, including 127 centers in the US. 
Specifically for the US manufacturing site, between Dec-2020 and Jun-2021, 376 patients in the US had starting material available for manufacturing. Overall, the manufactured product was available for shipment for 98% of patients (shipping success rate [SSR]). The commercial manufacturing success rate (MSR) was 96%, with an out-of-specification (OOS) rate of <3% and no OOS for viability. All ten OOS batches were released for infusion as benefit:risk assessment was positive. Manufacturing was cancelled for two patients upon physician's request. 
Immediate manufacturing capability without waiting time was available on receipt of all apheresis starting materials. The median time from start of manufacturing to shipping was 20 days. As is evident, the COVID-19 pandemic did not appear to have significantly affected the success rate or manufacturing turnaround time. 
These latest success metrics, reflecting significant improvements from 2018 to 2021 in MSR (69% to 96%), SSR (93% to 98%), and overall OOS rate (26% to 2%) including viability OOS rate (from 25% to 0%), are a result of upscaling the manufacturing capabilities, enhancements with hospitals focusing on optimizing apheresis collection and cryopreservation procedures, and continuous evaluation and improvement of the manufacturing process since tisagenlecleucel was first launched (Figure). Two key process and analytical improvements that were considered to have improved robustness of manufacturing and testing processes, reduced OOS rates, and minimized variability in turnaround time were introduced towards the end of 2020. Firstly, a simplified sample preparation procedure for final product cell count and viability measurement, which is more reflective of final product at infusion. Secondly, an alternate serum source (5% plasma-derived human AB serum [PD hABs]) which further improves process robustness with a trend towards improved growth and higher peak cell counts. 
 
Conclusions: Tisagenlecleucel's current global commercial manufacturing footprint and treatment network are well-positioned to meet anticipated future increase in demand for CAR-T therapies. Recent process improvements have significantly increased the MSR (to 96%) and SSR (to 98%), and immediate product availability for patients in need of CAR-T cells. Ongoing and upcoming process improvements are anticipated to further reduce the throughput time, thus allowing more patients faster access to CAR-T therapy.
Jennifer Willert, David Fong, Lee Clough, Andrea Magley, Ali Shojaee, Ranjan Tiwari and Christopher Acker
Background: Tisagenlecleucel is an anti-CD19 chimeric antigen receptor (CAR)-T cell therapy approved for patients (pts) ≤25 years of age with B-cell acute lymphoblastic leukemia (B-ALL) that is refractory or in second or later relapse. Pts <3 years of age were excluded from tisagenlecleucel clinical trials in relapsed/refractory (r/r) ALL (NCT02435849 [ELIANA]; NCT02228096 [ENSIGN]). We present leukapheresis and tisagenlecleucel manufacturing outcomes in pts <3 years old with r/r B-ALL in the US commercial setting since regulatory approval. 
 
Methods: Qualified pts were <3 years of age at time of request for commercial tisagenlecleucel, with manufacturing data after August 30, 2017 (date of first FDA approval of tisagenlecleucel). Only pts whose tisagenlecleucel was manufactured and administered in the US were included; tisagenlecleucel was manufactured at Morris Plains, NJ, USA. Pt leukapheresis and manufacturing outcome data are presented for all pts and stratified by weight (<10 kg and ≥10 kg) and age (<1 year old and 1-3 years old). These data provide an extended analysis (cut-off March 31, 2021) from the previous report (Eldjerou, 2019). 
 
Results: Among 65 pts, the median age was 15.6 months (range, 3.6-36); median body weight was 10.4 kg (range, 6-20) at leukapheresis; 105 leukaphereses were performed in 65 pts (49 <10 kg and 56 ≥10 kg). A median of 1 leukapheresis day was required to meet adequate cell counts (range, 1-4 <10 kg and 1-6 ≥10 kg). The median total blood volume reported in 53/65 pts was 3.5 L (range, 1.3-14.3). The acceptance criteria for tisagenlecleucel manufacture (total nucleated cells: ≥2.0 × 109, CD3+ count: ≥1.0 × 109, CD3%: ≥3%) were met in 59/66 (26 <10 kg and 33 ≥10 kg) leukapheresis materials; 7/66 did not meet acceptance criteria but proceeded to manufacturing. Following leukapheresis, median percent cell populations were: T cells 55.1% (58% <10 kg and 54.8% ≥10 kg), B-cells 16.9% (20.3% <10 kg and 14.6% ≥10 kg), natural killer cells 4% (3.8% <10 kg and 4.7% ≥10 kg), and monocytes 3.9% (2.6% <10 kg and 4.9% ≥10 kg). 
Manufacturing success is the formulation of a final product within approved specifications. Out of 66 manufacturing batches (23 batches <1 year old and 43 batches 1-3 years old; 29 batches <10 kg and 37 batches ≥10 kg), 55 (83.3%) were successful. Of the 59 manufacturing batches that met acceptance criteria, 50 were within specification, 2 were terminated, and 7 were out-of-specification due to cell viability (n=4), CAR+% expression (n=2), or another reason (n=1). One pt who experienced manufacturing failure was remanufactured successfully with a second attempt. Of the 7 batches that did not meet the acceptance criteria, 5 were within specifications and 2 were terminated. The median manufactured cell dose was 2.3x106 CAR+ viable T cells/kg [range, 0.23-4.6x106 (2.5x106 <10 kg and 2.1x106 ≥10 kg)], median percent cell viability was 90.6% [range, 66.7%-98.3% (91.9% <10 kg and 90% ≥10 kg)], median CAR+ percent expression was 12.0% [range, 2.1%-37.2% (12.2% <10 kg and 11.8% ≥10 kg)]. From 2017 to 2021, the frequency of CD3+ cells present in the leukapheresis material was greatest in 2021 (Figure, left panel). The percentage of in-specification products was 69%-83% in 2017 to 2019 and increased to 89% and 100% in 2020 and 2021, respectively. Additionally, the number of terminations decreased over time (Figure, right panel). 
Measures for successful leukapheresis in low-weight infant/toddler pts include verification of absolute lymphocyte and/or CD3+ counts on the day prior to the leukapheresis procedure, maintenance of hematocrit levels at 40%, adequate venous access, blood prime of the leukapheresis instrument, prevention of hypocalcemia, and consideration for allowing for >1 day of leukapheresis for the pt to meet the acceptance criteria when medically feasible/safe. During leukapheresis, hypothermia must be prevented, and the pt must be monitored for hypocalcemia, hypomagnesemia, and alkalosis. 
 
Conclusions: Leukapheresis and tisagenlecleucel manufacturability in pediatric pts with r/r B-ALL <3 years old and low weight (lowest 6 kg, youngest 3.6 months) continues to be feasible and leukapheresis and manufacturing outcomes show an improvement over time. Communication among cross-functional teams within and between the institution and manufacturer have been key for achieving these advancements. Clinical outcome data for these pts are currently being explored.